An unfortunate reality for foreign nationals in the U.S. is that when a permanent resident case is finally approved, the green card document (formally known as an alien registration card) gets lost in the mail. To minimize the risk of losing your green card in the mail, please follow this advice.
Put your name on your mailbox.

Government documents are not left at an address that does not bear your name.

On USCIS forms, input your home address for 'physical address' and our law firm address for 'mailing address.'
On Form G-28, where your home address must be provided at q. 12, tick the boxes at Part 4, 2.a. and 2.b. to instruct that all notices and documents be sent to our law firm.
Do not change your address online via the USCIS website for 'pending applications.'
Only register your change of address on a paper Form AR-11. See instructions below.
Create a MyUSCIS account to track your green card filing.
Do not put a mail forwarding order on your home address.
Filing a Paper Form AR-11
Immigration and Nationality Act § 265 requires all non-U.S. citizens over 14 years old to report a U.S. change of address on Form AR-11 within 10 days of the change. The purpose of this 60-year old law is to register the locations of foreign nationals for security reasons. Form AR-11 is not used for updating one's address on pending applications.
The online change of address system is intended for updating information on pending forms that were filed with USCIS and asks for your form tracking receipt numbers. Changing the address on pending applications is unnecessary if you have filed with a law firm and instructed on the G-28 that notices and documents be sent to the law firm. Changing your address online can impact your application's eligibility or cause it to be transferred to another USCIS office. Consequently, it is not recommended in green card cases due to the common problem of documents getting lost in the mail.
Furthermore, the immigration agency website (uscis.gov) has combined the AR-11 registration and the address update for pending applications on one webpage. This means that foreign nationals can inadvertently overwrite instructions to send documents to a law firm when they file Form AR-11 online.
Therefore, we strongly advise applicants to comply with the AR-11 requirement by filing a paper Form AR-11 and to avoid changing their addresses online. In particular, applicants with a pending I-90 application to receive, replace or renew a green card should not change their address online; instead, they should only file a paper Form AR-11.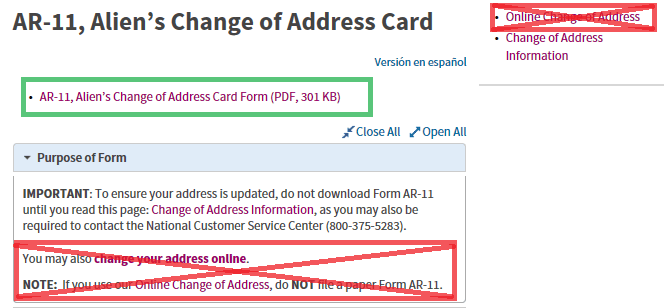 To file a paper Form AR-11, download the form from the USCIS website. There is no fee for submitting an AR-11. USCIS service centers are not informed of your change of address when a paper Form AR-11 is filed.
Form AR-11 requires the applicant to report his/her name, immigration status, country of citizenship, date of birth, A-number, present and previous physical addresses, and present mailing address. Each non-U.S. citizen member of the applicant's family must file the form upon relocation in the U.S.
The completed Form AR-11 should be sent to the following address:
U.S. Department of Homeland Security
Citizenship and Immigration Services
Attn: Change of Address
1344 Pleasants Drive
Harrisonburg, VA 22801
Please always contact our law firm to update our records with your current address.